A GROWING community of black yoga enthusiasts in the UK and the US are claiming yoga as their own amid compelling historical evidence that various forms of yoga were practiced across Africa, and in particular Kemet (modern-day Egypt), 5000 years before the emergence of its Indian equivalent.
The mainstream yoga community have only recently started engaging with this idea. Leading experts are exploring the possibility that all we thought we knew about yoga's origins may be wrong. But the debate has only arrived at this pivotal point after years of dismissal and, indeed, the odd death threat.
Kemetic yoga, as the African-originated version of the practice is widely known, is being popularised by Yirser Ra Hotep, a Chicago-based yogi and scholar. He and other researchers saw synergies between modern yoga and the poses seen in hieroglyphs and other artifacts from ancient Egypt.
The controversy arose, however, because these artefacts pre-date Indian yoga traditions by some thousands of years. Yirser first published his findings in the late 1970s and was largely ignored by the yoga community.
In recent years, a new generation of black people from across the diaspora, with a renewed curiosity about African spirituality, have embraced his research and the kemetic yoga practices he teaches.
Yirser said, "When we first identified kemetic yoga as the possible origin of the practice, the response was mixed. While many scholars acknowledged the validity of the evidence, others pushed back. I've even received death threats.
"But I've seen the tide start to change as this research has stood up to scrutiny. The surge in interest also comes at a time when the black community has begun to find the words to express its collective trauma, and recently I ran a highly successful workshop called Healing Racial Trauma Through Kemetic Yoga."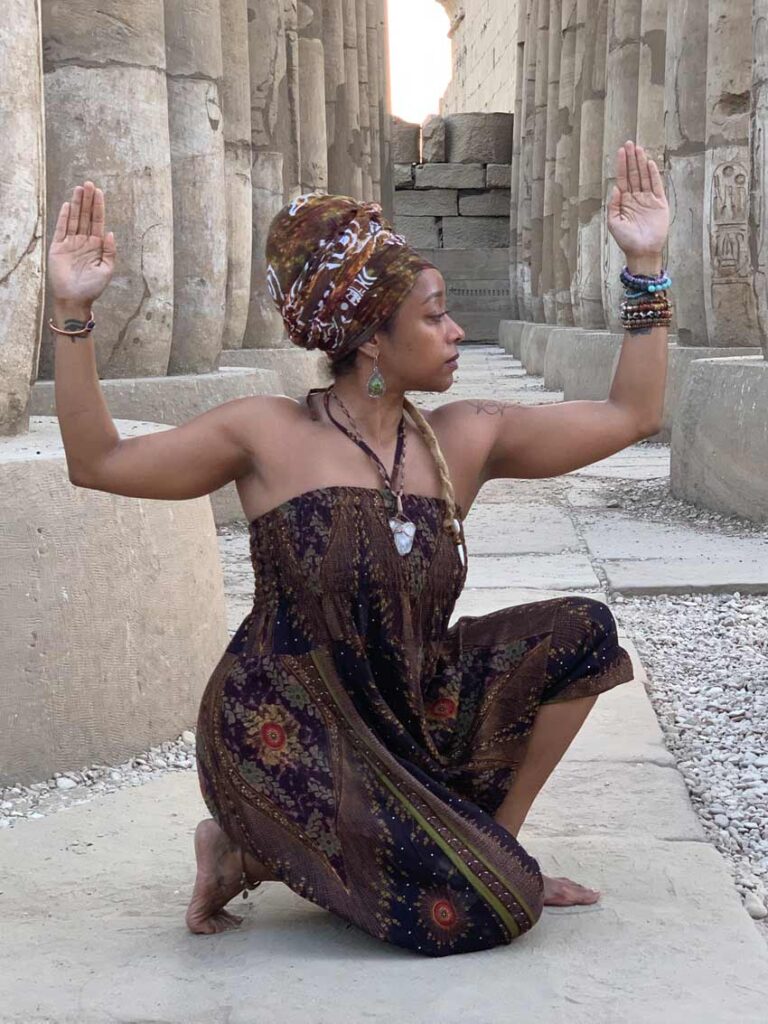 I, as a black woman, can identify with this last statement. Being neither thin nor especially flexible, I have never quite felt at home in the yoga world. I came across kemetic yoga while looking online for ways to keep fit during lockdown. In the midst of the racial turmoil and isolation that marked 2020, I discovered a community of black yoga lovers who came together to enjoy a practice that felt entirely our own.
Kemetic yoga incorporates poses found in Eygptian hieroglyphs and its mantras come, not from Sanskrit, but from the ancient languages of Africa. Aside from the vast physical and emotional health benefits, kemetic yoga offers a much-needed healthy lifestyle community for black people.
Brother Kamean, a yogi who trained under Yirser, described how his kemetic yoga practice became a wellbeing hub. "Every Sunday I held an event at my home where I offered breathing exercises and meditation, and sold healthy food. This event was attracting 75 people to my front lawn."
Brother Kamean has since relocated to Ghana where he is in the process of building a kemetic yoga retreat where people can experience the practice on the continent of its origin.
Along with Brother Kamean, Yirser has trained ten other yoga practitioners from the UK. He says the enthusiasm from the British black community continues to grow. Such is the interest in kemetic yoga that London's Somerset House is currently hosting a digital exhibition about the practice, based on the work of artist Tabita Rezaire.