WHEN NOVELIST Alex Wheatle started his journey on Small Axe in the writers room, little did he or film director Steve McQueen know that Alex's story would become the fourth installment of the collection of five standalone films.
People sometimes forget that this was so shortly after what happened in Deptford, where 13 young black people passed away and died –you know, a terrible fire –that has never really been resolved

Alex Wheatle
Coming to BBC One and iPlayer at 9pm on Sunday December 6, Alex Wheatle follows the true story of the award-winning writer from a young boy through his early adult years.
Having spent his childhood in a mostly white institutional care home with no love or family, he finally finds not only a sense of community for the first time in Brixton, but his identity and ability to grow his passion for music and DJ'ing.
When he is thrown in prison during the Brixton Uprising of 1981, he confronts his past and finds a path to healing.
"Early on in our writer's room, Alex touched upon his past. It soon became apparent to me that his story had to be a feature film," McQueen said when recalling why Alex Wheatle was an indispensable story in the Small Axe anthology.
McQueens co-writer Alastair Siddons, explained: "Alex is a world class novelist in his own right, but the Brixton Bard is also a very generous, humble and funny human being.
"I loved him as soon as I met him in the writers'room, where his wealth of knowledge and experience as well as his fantastic kung fu dancing played a huge role in shaping all of the films we were working on.
"I'll never forget the day he shared his own life story, about growing up in care. But when Alex shared his unbelievably callous Social Services file, it broke all of our hearts.
"Steve very quickly decided that Alex Wheatle was to become part of the Small Axe series, and I was genuinely thrilled to be given the opportunity to co-write the script with Steve."
Sheyi Cole stars opposite Jonathan Jules and Robbie Gee.
Finding lead actor, Cole, to play the complex titular role proved easy due to Cole's natural sense of character says McQueen.
"Sheyi came into the audition room with two guns blazing. His nuances and understanding of Alex Wheatle were so on point.
"For such a young man he had so much depth."
Executive producer Tracey Scoffield added: "When Sheyi came to meet Steve, with Gary Davy our casting director, we knew he was at drama school and would have to ask for a special dispensation to be in the film.
"And he knew that the day after we wrapped, having been immersed in Alex's world of the early 80s with the Brixton Uprising and prison life, he would be back at college and flung into the world of 17th century Restoration Drama."
Wheatle says seeing McQueen's recreation of the Uprising was frighteningly accurate.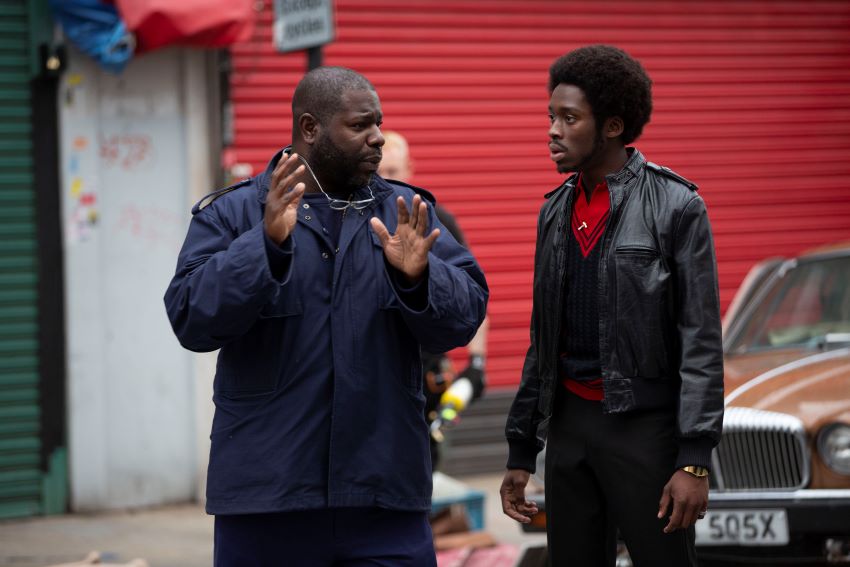 "I was observing those scenes in the director's tent, and as I was watching the monitor it all brought it back right home for me," says Wheatle, who is now a husband and father.
"Not just the excitement, but the fear as well. The panic, the pounding heart. That was all captured so beautifully."
Conveying how frustrated members of the black community had become was also crucial. "And the rage as well," Wheatle says.
"That was very important for Steve to capture. And he caught that beautifully, I felt, because there was a lot of rage, a lot of anger.
"People sometimes forget that this was so shortly after what happened in Deptford, where 13 young black people passed away and died –you know, a terrible fire –that has never really been resolved."
See Small Axe here: https://www.bbc.co.uk/iplayer/episodes/p08vxt33/small-axe