LAUNCHED IN October last year, the How To series from #Merky Books are short and practical pocket-sized guides designed to inspire and encourage readers to unlock their potential and provoke change.
Our message to budding entrepreneurs and brand builders is that they can to it through determination and networking

Niran Vinod and Damola Timeyin
Creatively presented and packed with clear step-by-step practical advice from leading professionals, the series is essential reading for anyone seeking guidance to thrive in the modern world.
The How To series offers a new model in publishing, helping to break down knowledge barriers while also uplifting the next generation.
The latest to come from the series is How To Build It: Grow Your Brand co-authored by Niran Vinod and Damola Timeyin with a foreword by Nando's.
Niran and Damola – both creative strategists who between them have worked for a number of top brands including Nike, Bartle Bogle Hegarty, Facebook and Instagram – share with Lifestyle readers some tips on how to build and grow your brand.
Voice Online: Please introduce yourselves to our readers…
Niran Vinod: I'm Niran Vinod. I'm 32 and a British born Indian. But I'm an East End boy – I grew up in East Ham now living in Havering but E6 for life! I work in advertising. I worked in tech (as a creative strategist at Instagram) when I wrote the book and I just left a month and
a half ago to set up my own consultancy.
Damola Timeyin: My name is Damola. I'm 36 – Niran calls me uncle and I take it, though it does age me a bit! I work for Facebook and Instagram where Niran and I worked together very briefly. Prior to that, I worked in an advertising agency. So I've been working in marketing for about 11 or 12 years and doing a range of things within that. But I'm from London originally. I spent some time growing up in Dartford in Kent and now I'm back in London and living in Highbury.
Voice Online: Briefly share with our readers what a typical work day looks like for you both.
DT: My job is a global creative strategist at Facebook and Instagram. My 9-to-5 – or more like my 9-to-7 – is packed full with video conferences. Lots of meetings, but those meetings are about helping brands use Facebook's platforms to connect with their audience and using our platforms to bring the world closer together. Outside of brands I'm also head of strategy for the creative network People of Culture Collective.
NV: I did exactly what Damola does for four or five years. I recently set up my own consultancy called Deft (deft.be) where I am the creative director and co-founder. So at this stage I guess it's about getting our name out there through marketing. The way we position ourselves is by taking consumer businesses, which are turning a few million, on to the next level through e-commerce and digital strategy. Day to day includes talking to clients directly, seeing where we can come up with ideas and also just advising them on what they do right or wrong, but my day to day really varies at this moment in time. Some days it's running a marketing event and talking about TikTok versus Instagram now that I've left Instagram (laughs), and other days it's meeting new prospective clients or talking to investors.
Voice Online: Give some brief background on your first interest and involvement with brands.
NV: I started a blog when I was at University called Yin&Yang and it was just very much for me and my best friend at uni to talk about what we liked. We didn't know what content was or what brands really were – we just saw them as companies. The blog started to get an audience and attraction and brands started reaching out to us making requests to feature their products and attend their events. So that was probably the earliest interaction with brands, I guess, in a more personal way, and then from there I ended up working in advertising for several agencies – AKQA, Nike and a few others.
DT: I first really got involved in this whole world as a teenager trying to set up my own things kind of to make money, and also to do something a bit more interesting. So I tried to be a bit entrepreneurial with it and that was my first introduction to marketing and branding. But more formally, I left a job in banking to work in marketing and joined a small agency and analyst where I was first introduced to marketing, branding and advising brands on how to use communication to grow and sell.
Voice Online: What impact has COVID-19 had on your work?
NV: I think both of us are in a very blessed situation where our jobs can be done from home, and I worked at digital-first company, so it was sort of like business as usual. As soon as COVID and lockdown hit work just continued. I guess the challenging part as a creative is not being in person with your colleagues brainstorming. It is tiring to do this through the screen 24/7 and also you don't get the same energy. I do question productivity and even just thought process. I went out today and just that commute in
is enough inspiration for me – thinking this is cool to just to see all different walks of life again.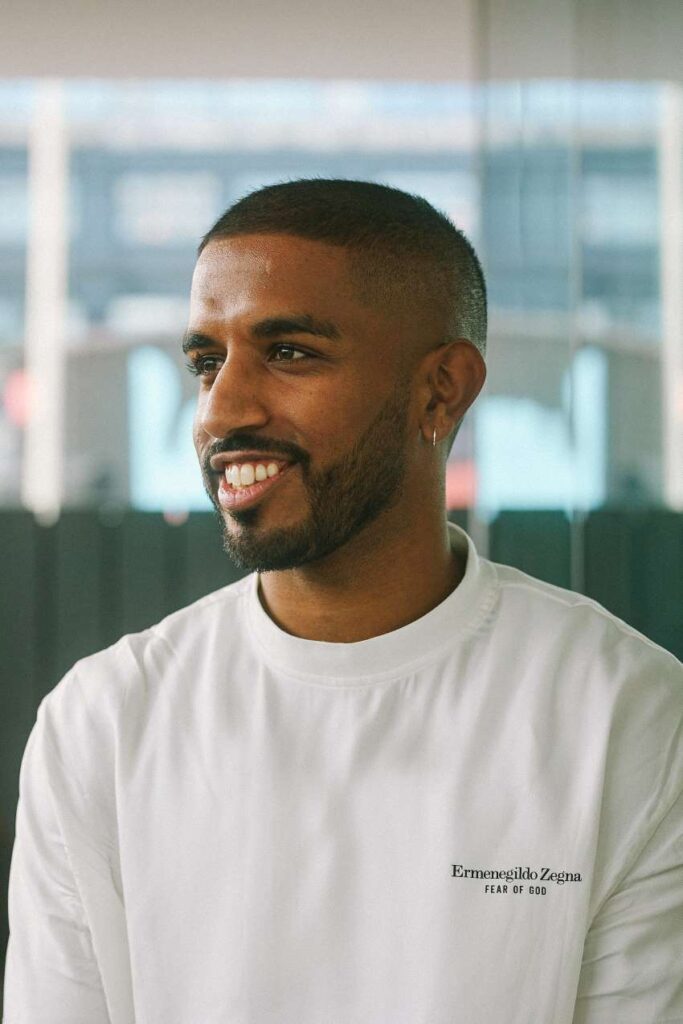 DT: I think the hardest thing is the change – the transition because I don't think anyone has had to transition in such a dramatic way ever, well in our life time anyway. So that transition actually has been the most challenging thing. Having to adapt to a new way of working very quickly is difficult for everyone.
Voice Online: What message do you hope to bring across to readers of your book How To Build It: Grow Your Brand?
DT: It's an opportunity to give back. We've had the benefit of working in the industry collectively for 20 years and had the opportunity to work with some great people. So I think that this was our opportunity to impart that bit of knowledge we have to help others thanks to #Merky Books. Niran actually extended the invitation to me to co-author the book with him and so I was happy to do so and give back to others in the process.
NV: This book is for people who don't have access to roles or industry we're involved in. I would still say that while advertising is changing on the lower level, if you look at the higher levels in this industry it still looks pretty much the same as it did 10 years ago. Also it's about what #Merky Books stands for – a platform giving voice to underrepresented writers from underrepresented backgrounds. Our message is to budding entrepreneurs and brand builders is that they can do it through determination, networking – and of course reading our book!