TO ENCOURAGE joy and magic this winter, Puffin aims to inspire families and friends to explore the world of storytelling, spark imagination and share their favourite books, old and new.
We hope this wonderful story showcases how the magical act of gifting a book

Alex Moyet, Brand Director
By gifting either a pre-loved classic or a brand new book, alongside a Puffin VIP letter, everyone across the country is invited to pass on a dream. 
To launch the activity, an animated advert has been made by the wonderfully creative stop-motion experts, Adeena Grubb and Andy Biddle.
The advert celebrates 80 years of extraordinary Puffin authors, illustrators and stories, and follows a little brother who goes on a magical journey to find his sister, visiting unforgettable moments from Puffin books along the way.
This includes meeting The Jolly Christmas Postman from the much-loved festive bestseller, hopscotching through mouldy cheese from favourite comedy series, Diary of a Wimpy Kid, encountering an escaped worm from Roald Dahl's The Twits and discovering Look Up!, Best Illustrated Book and the Overall Winner of the Waterstones Children's Book Prize 2020.
Alex Moyet, Brand Director, said: "In a world that is currently so serious and complicated, it's more important than ever for families to connect with stories, see themselves within the pages of books and be inspired to go on magical adventures.
"That's why we are concluding Puffin's 80th birthday year by launching our 'Pass on a Dream' campaign. 
"We hope this wonderful story showcases how the magical act of gifting a book, whether this is a pre-loved Puffin favourite or a shiny new book, proves that you too can pass on a dream."
Dapo Adeola, illustrator of Look Up! and Clean Up!, said: "As a published illustrator I have learnt the importance of passing on dreams and how books can do this.
"My favourite Puffin story that I would pass on to any one of my loved ones is James and the Giant Peach. It was one of my favourite stories as a child growing up.
"It allowed me to go on an amazing adventure to far off lands without ever leaving my room. I hope it'll do the same for any new readers."
Nathan Bryon, author of Look Up! and Clean Up!, added: "I would pass on the dream of Charlie and the Chocolate Factory.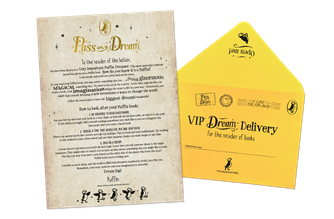 "It was one of the first books I read and got totally enthralled by, I think every kid or adult who reads it finishes with a big smile on their face and a desire for some sweets after."
Throughout their 80th year, Puffin, the biggest children's publisher in the world, has been championing the power of reading, inspiring children to dream big and ensuring accessibility to books.
Having brought families together through initiatives including Puffin Storytime (free online storytelling and draw-alongs for families during lockdown) and the Puffin Festival of Big Dreams (free 7-day digital literary festival for children), Puffin is now inspiring families to pass on a dream this winter.