BOUTIQUE MUSIC Publisher Palm Bay Music has announced the launch of four ground-breaking songwriting camps in partnership with Focusrite.
There are still not enough equal opportunities that financially support those who are at the start of their music career

Rhiannon Mair, Managing Director Palm Bay Music
The writer development programme will pay young writers, producers and artists aged 18-25 a fee to write, be mentored, network and receive feedback from established industry professionals.
The programme funded by Youth Music's Incubator Fund, will particularly focus on supporting those who are who are LGBTQIA+, non-binary, Women, non-graduates, from less advantaged socio-economic backgrounds and of diverse ethnic heritage.
They will nurture, elevate and – crucially – financially support young people who are currently underrepresented to become the UK's music leaders of tomorrow.
People can apply to attend via an application form on the Palm Bay Music website. 
Applications opened this week and there will be four people at each camp, three young people and one industry professional.
Each young person will receive travel and accommodation expenses and £440 a week (£88p/d) fee for participating in the writing camps. 
Each Junior A&R in charge of setting up the writing camp will be paid £1980 for 22.5 days of work. 

On top of the societal inequality, songwriters are often expected to work on an unpaid basis, only getting paid when they secure a cut on a song that is commercially released.
The slice of the income pie that songwriters receive has fallen dangerously low as streaming services and labels dominate the majority share of income generated through these platforms.
The Ivors Songwriting Academy states that "Only 15 per cent going to the copyright owners of the song doesn't seem right.
"The owner of the copyright in the recording, usually the label, receives in the region of 55 per cent."
Programme participants will: 
– Get paid to create or A&R the curation of the writing camps 
– Grow their Industry networks
– Explore diverse career paths in the music industry i.e A&R, Management, Marketing, Publishing, Synchronisation
– Develop their songwriting, music production, engineering and vocal techniques
– Be affiliated with a professional Publishing company
– Build a new creative body of work and writing credits
– Share work with Record Label/Publishing A&R's, Managers, Music Supervisors
– Build relationships with high profile creative collaborators opening doors to future opportunities
– Set career milestones to develop skills with an assigned mentor.
– Receive a £300 bursary for equipment, training, PRS registration to help increase their ability to generate future income
– Increase their awareness of good mental health to stand in good stead for pursuing a career in music.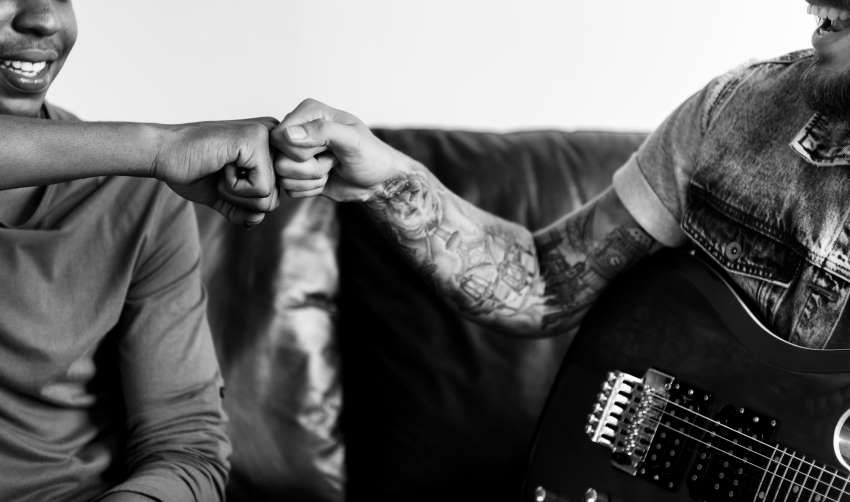 As a majority female led company with LGBTQIA+ and diverse ethnic heritage founding Managing Directors, Palm Bay understands the difficulties of navigating the music industry if you belong to a minority group. They believe in a future that is enriched by diverse voices and leaders and aim to empower those who often feel powerless.
"This is a real opportunity to contribute towards changing the future landscape of the music industry by making it more accessible to diverse creators and decision makers," Kimberly Anne, Managing Director Palm Bay Music enthused.
"Palm Bay Music is committed to empowering underrepresented voices and progressing towards a more balanced industry.
"The support we have received from established writer-producers wanting to mentor our developing young writers is unreal, we can't wait to hear the amazing music that will emerge from this project."
Rhiannon Mair, Managing Director Palm Bay Music said: "It feels really great to be involved in a project that will help develop and encourage young people to thrive in our music industry.
"There are still not enough equal opportunities that financially support those who are at the start of their music career and I believe that this program will not only support those involved but help raise awareness of that too." 
The programme takes inspiration from the Brill Building, a place which was home to award-winning songwriters, producers and publishing companies in early 1960s New York, leaving a legacy of hits.
The Brill Building created a production line for making and selling music, as everything was quite literally "in house": writers like Carole King and Gerry Goffin would work 9-5pm, five days a week to write songs and be paid a wage for it.
They would then take them to other floors in the building to get an arrangement, book the studio to make the demo, have musicians play on it before taking it to the publishers office to get it cut by an artist.
In the Brill Building the creative and business worlds of the music industry collided and Palm Bay Music wants to re-create that spirit of collaboration.
Jess Sharman – A&R of Palm Bay Music said: "I'm so excited to be part of a project that's creating such an amazing opportunity for talented young people.
"I wish there had been something like this around when I was starting out, so it feels extra special to be able to support the next generation of writers, artists, producers and A&Rs so early on in their careers."