FOR COLIN Babb the common thread which connects a historic 2-0 cricket Test series victory for the West Indies over England, a major tour of Britain by legendary reggae music icons Bob Marley and The Wailers and the increasing popularity of colour television in the UK, was the year in whcih all of those things took place.
Players like Clyde Walcott, Everton Weekes and Frank Worrell, who became the first black cricketer to captain the West Indies side in the early 1960's, gave West Indians a sense of pride and honour

Colin Babb
1973 for Babb was a special year in his childhood.
The award winning media practitioner relives his past in his latest book – 1973 and Me: The England v West Indies Test Series and a Memorable Childhood Year.
Babb, 56, a former website producer and broadcast Journalist for the BBC for over a decade, was mainly raised in South London by parents of dual Caribbean heritage (mother from Guyana and father from Barbados) who were among those who migrated to England during the 1960's.
While there had been a myth among some non-Caribbean people in Britain of an underlying solidarity amongst the newly arrived Caribbean migrants to the country, the truth was that many West Indians had not visited or known those from different Caribbean Islands until they had reached Britain as Babb explains: "If you came to Antigua in 1962 it's not guaranteed that you would have met anyone from Guyana in your life."
He added: "If you came from Jamaica would you have met a Trinidadian? Not necessarily.
"So many Caribbean people from different Islands met each other for the first time when they migrated to Britain.
"Historically there had been lots of cultural and territorial rivalries amongst various Caribbean Islands and deep seated ethnic rivalries with political implications such as those experienced in places such as Guyana and Trinidad which are mainly populated with people of African and Indian descent."
However, such historical, cultural and political implications within the Caribbean diaspora would change whenever the West Indies Cricket team toured England as Babb explains: "Cricket was so important because it was a way for people who had migrated here from the Caribbean during the 1950's and 1960's to make a connection with back home, each other and unifying West Indians in Britain around a common cause.
"There were many places black people could not go without experiencing a degree of hostility and racism but not at cricket grounds when the West Indies toured England.
"Wes Hall, the Barbadian cricketer who toured here in the 60's and whom I had met at an event some years ago told me that whenever the West Indies would play England here some West Indian fans would go up to him and say make sure they don't beat us because if they do there will be hell for me at work tomorrow.
"So back then cricket was that important to people and cricket grounds were one of the few places where West Indians could gather together and openly celebrate being themselves and this was before the emergence of carnival."
Babb is quick to point out that there was also a reciprocal connection between West Indian team players and their loyal supporters in England: "Players like Clyde Walcott, Everton Weekes and Frank Worrell, who became the first black cricketer to captain the West Indies side in the early 1960's, gave West Indians a sense of pride and honour especially when they beat England.
"As the first black captain of the West Indies team, Frank Worrell was keen to represent the Caribbean people at home and particularly those in England with distinction and discipline.
"Worrell would go on to pave the way for the likes of West Indian captains such as Garry Sobers, Rohan Kanhai, Clive Lloyd and Viv Richards to go on and try to do the same."
Babb's own love affair with the West Indies Cricket team was cemented at the age of nine during their historic 2-0 test series victory over England in 1973. Reliving that special time in his childhood Babb said: "1973 was an exciting year for our household.
"We had purchased a brand new Phillips colour television so that year I was able to watch my first West Indies Test Series against England live on the BBC in colour.
"There was an almost instant connection with players such as Rohan Kanhai, Clive Lloyd (Guyanese) alongside Vanburn Holder and Keith Boyce (Barbadians) who were from the same countries in the Caribbean as my parents.
"Rohan Kanhai was the first Guyanese cricketer to captain the West Indies team for an entire Test series. He was also the first West Indian of Indian-Caribbean heritage to hold the post.
"Also, from 1968 to 1973, the West Indies did not win a Test series and lost 2-0 on their last England tour in 1969.
"So, to have witnessed their first series victory in a long time, which formed a platform for an era of dominance in the sport for the West Indies team under Clive Lloyd and Sir Viv Richards during the 70's and 80's, was deeply satisfying for me."
Babb admits that with the migration of many West Indians to North America as opposed to Britain, the televising of international cricket in Britain now on pay per view and the current West Indies side having not won a Test series in England since 30 years ago, have contributed to the lack of interest in the sport from a younger generation of British born Caribbeans' who perhaps have access to Caribbean culture, if they wish to, more readily through the avenues of digital media, music, food, and committed interest to other sports such as football and athletics.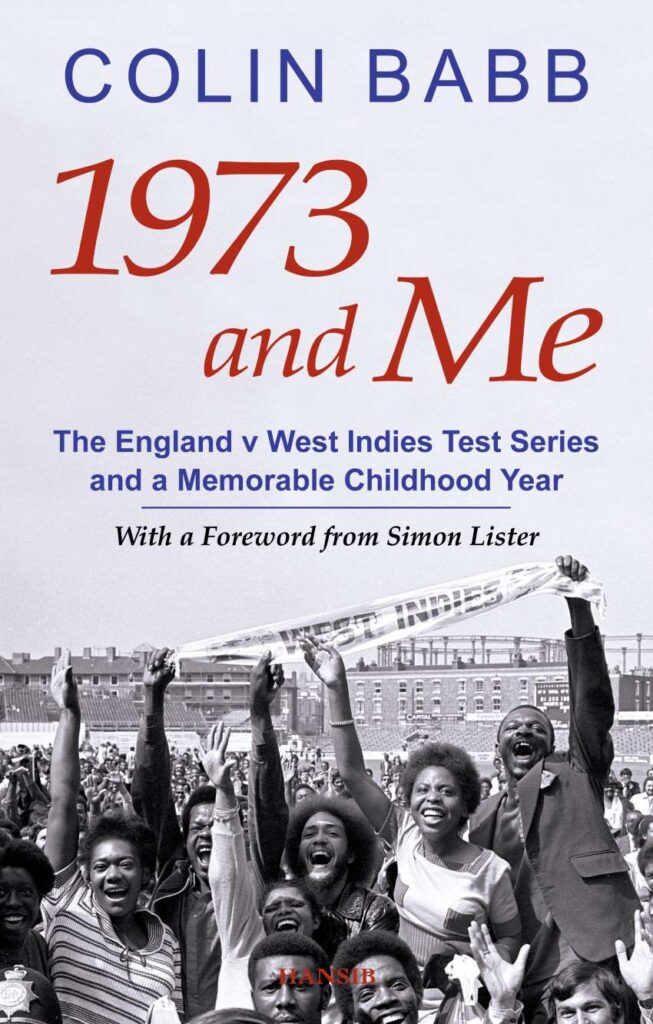 While the heart of the book is cricket (including a bonus Q&A feature with popular legendary cricket umpire Harold 'Dickie' Bird who made his Test debut that year) and a foreword by award winning Cricket author – Simon Lister, Babb also reflects on other memorable highlights which took place that year.
These include a Q&A with historian and author Colin Grant on Bob Marley and The Wailers first ever tour to Britain, as well as the formation of CARICOM (The Caribbean Community), Britain's joining of the European Common Market (later renamed the EU) and a heart-breaking FA Cup Final with his beloved Leeds United going down in a surprising 1-0 defeat to Sunderland.
Babb also shares his love of television with particular reference to black actors who became household names such as Cy Grant and Rudolph Walker.
"You don't have to be a cricket fan, a West Indian or brought up in the 1970's to get something out of this book," says Babb, who adds, "what I want readers to take away from the book are the personal stories of migration, music, politics, sport and television to be found there as well as personal recollections from various individuals, both West Indian and English, on a special moment in West Indian cricket and social history in Britain which should not be forgotten."
For more information on Colin Babb's 1973 and Me: The England v West Indies Test Series and a Memorable Childhood Year (published by Hansib) please visit: www.colinbabbauthor.com
Jamaican cricket ace on top of the world