THE COVID-19 pandemic did not deter Lilly from setting the stage for her organization's mission of promoting"…dance within the African diaspora with workshops, showcases, interviews and education throughout the United Kingdom and beyond." The weekend-long event was presented 23-25 October with virtual classes and streaming performances. Some of the works shown were a retrospective of the past five years of Afro Dance Xplosion concerts, that were presented before a live pre-Covid audience. I had the pleasure of attending both the live 2019 and the virtual 2020 performances and thus, appreciate the energies that were able to still translate through a virtual medium. The performance programme included live interviews with an impressive lineup of artists from a range of movement disciplines across the UK and several other countries. It was a kaleidoscopic showcase of dance styles. I will discuss a few that had an impact on this reviewer—but want to emphasize that all the works were certainly worth seeing.
I, You, We Rise by Dollie Henry's BOP Jazz Theatre Company was a finely crafted, energetic ensemble work. The fluidity of the movement and Henry's sense of musicality shone throughout. She is also a formidable dance instructor with a keen sense of the importance of full out dancing. This trait is evident in the direction of the work where all dancers were invested and well prepared to work it! Impact Youth's performance of Freedom was a treat on the programme.
The cast of four teen-aged women brilliantly conveyed the challenges young people face when it comes to social media and cell phones. Each dancer expertly handled the savvy choreography that incorporated props and costume changes—well done ladies! David Blake's Melanin Migration: Brothers in Arms was a new addition to the programme. It is part of a longer documentary Blake is developing. The work was superbly danced by a cast of six gorgeous males who have all, at some point, been involved with Disney's The Lion King––where Blake is also a leading West End performer.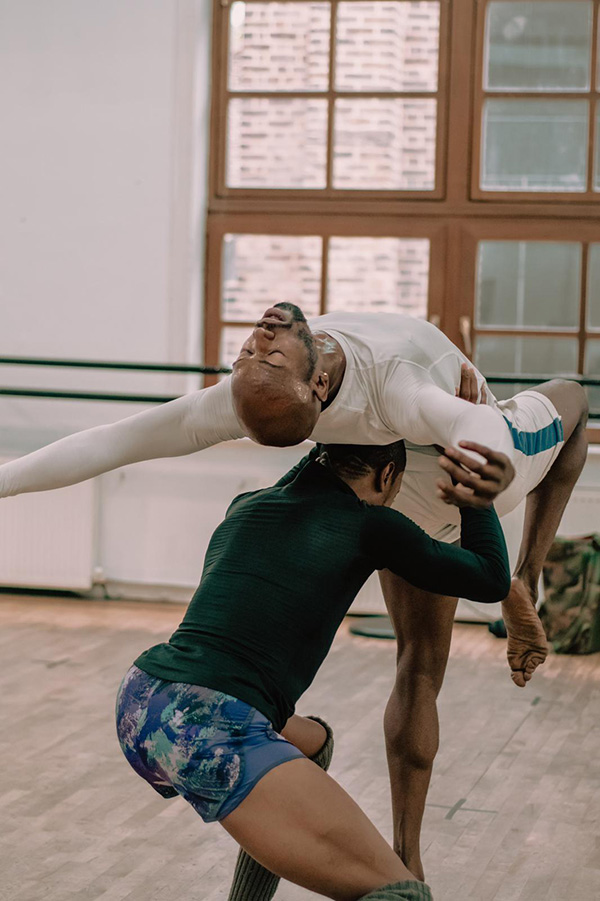 Blake describes his dance as "… (a) choreographic account of the personal stories of six male dancers, who are navigating a cultural space pre- and mid-Covid-19 and BLM, having to find a new way to look beyond their circumstances through the gift of dance."
The dance was passionate and starkly fulfilling with the men set against a sparse white background wearing black and blue attire. Blake is an innovative arts leader, having recently been named Best Teacher of Performing Arts at this year's Black British Theatre Awards. Blake Arts is definitely a group to watch.
Finally, the performance of Mami Watta by Merlin Nyakam of Cie la Calebasse was the gem of the evening. We are engaged from the very start—with Nyakam vocalising off-stage only to appear carrying huge calabash gourds on his head. The next moments of the work show this amazing performer engage the audience without words. Yet, everyone in the space (live or virtual) can connect to the abstract narrative unfolding. Although Nyakam sculpted body is clothed in a "brief"-brief, this is no overt gender trope or over-sexualized approach. Instead, Nyakam uses his body to serve as a type of palimpsest of African memory. Memory that easily relates to our contemporary perspectives with humor and power. I can watch Merlin Nyakam in any work and suggest you seek him out to do the same.
Producer Carolyn Lilly has been a dance aficionado and advocate for artists for more than twenty years. She founded Feel the Rhythm Productions in 2007 as a way to enable a repertoire of performance and education experiences focused on African diaspora voices. Currently living in London, she is a global citizen, having lived in the United States, France, and the Ivory Coast. She travels regularly with experience in business and the arts.  After living in France for many years she developed a network of artists exploring African diasporic genres at a level not readily available at that time in the UK. Carolyn Lilly has brought several great names—artists and teachers to London, including Papson Sylla, George Momboye, Alexandra Seutin, Merlin Nyakam, Dr. C Kemal Nance, and Lolita Babindamana among many others. Afro Dance Xplosion has been in existence for 10 years and the last five years have seen the programme expand thanks to support from the Arts Council. This has enabled a growth in attendance; exploration of larger venues; increased artist programming; and improved marketing. Carolyn Lilly has developed and solidified a reputation as a producer of high-quality work within the community that reaches youth and adults. Her work in London over the years has established Afro Dance Xplosion at the intersection between traditional and contemporary black dance. The presentation of "And Still We Dance"  was a fine example of the high quality programming and advocacy for presenting inspiring dancers and choreographers that Feel the Rhythm Productions delivers.