HIGHLY-ANTICIPATED first ever Grime movie soundtrack, 'Against All Odds' is released today.
The first project to be released via newly launched Motown Records UK, the soundtrack is produced and A&R'd by the film's legendary British directors Femi Oyeniran and Nicky 'Slimting' Walker. 
Bringing together the best in Grime, old and new, the soundtracks all-star lineup includes D Double E, Sir Spyro, Jammer, ​Flowdan, Maxwell D, Capo Lee, Novelist, So Large, Bruza & Tempa T and includes previously released single 'Serious 2020' alongside new track from D Double E 'Likkle Fish' ft Triggz.
Continuing to elevate the aesthetic of Grime visuals the accompanying video features D Double E, Triggz, Jammer and Lioness alongside the films cast, transporting Grime into a futuristic world. 
"For us, Grime icons like D Double E, are like superheroes so we wanted to create a visual palette that reflected this by referencing films such as Tron, Ready Player One and Men in Black.
"D Double E is in a Tron-inspired futuristic world weathering obstacles to deliver the last ever grime microphone to a Grime Mecca." – Femi Oyeniran and Nicky "Slimting" Walker
Against All Odds is a unique film that celebrates the music and culture from the early years of Grime and shines a nostalgic light on the generation defining genre.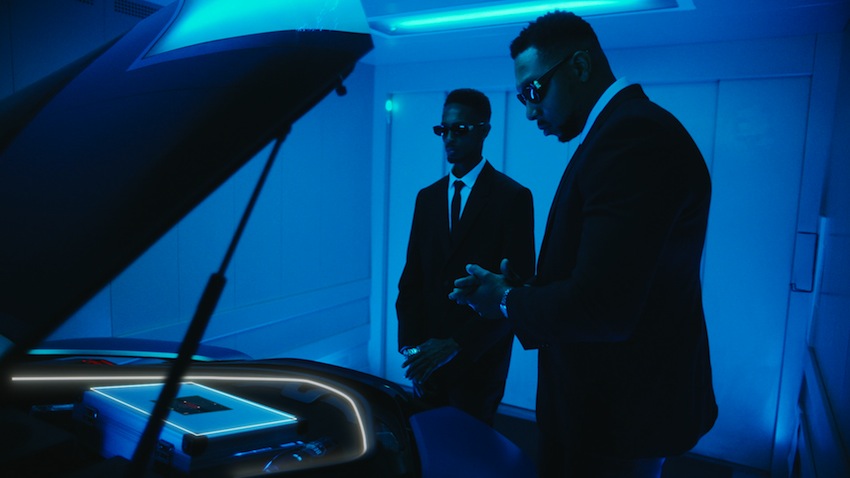 Featuring many of the biggest names who laid the foundations of the scene, Against All Odds expertly pays homage to this musical heritage and is set within the iconic moments that are etched into Grime history.
Exploring the self-sustaining eco-system that the forefathers of Grime created for themselves, the film tells the story of MC Active played by Nico Tyler James as he tries to make it within the emerging UK Grime music scene of the early 2000's and features the freestyle platforms that provided the first visual outlets for MC's like Lord of The Mics; prolific pirate radio stations like Déjà Vu & Heat FM, and recreates iconic live events that really happened such as Young Man Standing and Stampede.
A young cast of actors including Tyrell Morgan, Gabin Kongolo and Miraa May, star alongside the people who were actually there from D Double E, Ghetts, Jammer, Diesel, Maxwell D, Ozzie B and Bruza, to Grime Gran and many more.
These legends appear as themselves in the movie with the exception of J2K, who plays a leading role as Guv.
Continuing the nostalgic theme, Against All Odds will collaborate with LINK UP TV to takeover classic Grime satellite TV channel, Channel U on the November 20, 2020.
Set to go live once again on satellite TV channel 373, Link UP X Against All Odds will premiere the movie in full alongside a great day of programming which will include new live performances, interviews, a ladies takeover hosted by Zeze Mills, a selection of old school grime videos and classics like the Ace & Vis Show and Asqueezy's Chart Show.